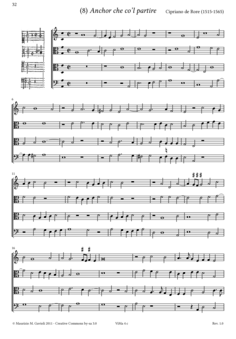 Tutti i Madrigali a Quattro Voci spartiti et accommodati per sonar d'ogni sorte d'Istrumento perfetto, & per Qualunque Studioso di Contrapunti

(

1577

)

:

The complete modern performing edition of Cipriano's 36 madrigals for 4 voices as published by A. Gardano in 1577. Covers Libro I, Libro II and a few sparse pieces.

Libro I: Alla dolc' ombra (canzone), Signor mio caro, Carità di Signore, Io canterei d'amore, Non è ch'il duol mi scema, La bella netta ignuda, La giustitia immortale, Ancor che col partire, Amor ben mi credevo, Come avran fin, Io credea che'l morire, Quel foco, La inconstantia, Donna ch'ornata sete, Di tempo in tempo, Se 'l mio sempre, Non gemme non fin oro, Qual è più grand' ò amore, Chi con eterna legge.
Libro II: Un'altra volta, Chi non sà, Schiett'arbuscel, Beato mi direi, O sonno, Fontana di dolore, Datemi pace, Mentre la prima mia, Mia benigna fortuna.
Altri: Ben qui si mostra 'l ciel, Nell'aria in questi dì, Era il bel viso suo, Chi vuol veder, Se qual è il mio dolore, Felice sei Trivigi, Musica dulci sono, Calami sonum ferentes.
| | |
| --- | --- |
| Editors: | Maurizio M. Gavioli |
| Contents: | Score (in 2 sets of clefs) |
| Formats: | PDF, MusicXML, MuseScore 1.2 |
| Cat. No.: | ViMa 4 (ver. 1) |
Download:
Version history:
2012-06-02

:
Initial release (ver. 1)